We are a church that believes in Jesus & loves God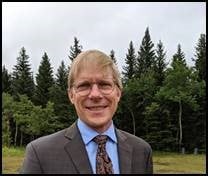 St. Andrew's United Church
Dave has been an ordained minister in the United Church since 1988, and has served churches in the Bawlf-Daysland area, and in Calgary.  Being something of a school junkie, he has training and additional education in spiritual direction, non-profit leadership, educational supervision, and was privileged to do a doctor of ministry degree at Columbia Theological seminary in Atlanta (gospel and culture).
Rev Dave Holmes, as part of his ministry in Calgary Dave was involved in the Calgary Interfaith Council and the Calgary Alliance for the Common Good, and sees community partnership and involvement as essential to vibrant ministry. 
Dave's married to Karen (also a United Church minister), has two grown sons, and now twin granddaughters in Calgary!  Walking, running, biking, birding, playing guitar, barbecuing, farmer's markets and more round out life for him. 
email: dave.st.andrewslacombe@gmail.com
Reverend Barbara Lieurance
St. Andrew's United Church
Barbara is deeply grateful to share in the ministry of St. Andrew's community of faith. Connecting mostly with seniors she finds herself profoundly enriched by their life stories and hopes to share many more cups of coffee or tea with all kinds of people.
As a travelling minister, for she also serves the communities of Big Valley and Erskine, she enjoys watching the ever-changing sky over Central Alberta.


Barbara is widowed with a blended family of five (amazing!) adult daughters, and three (even more amazing!) grandchildren.
Walking, reading, playing the recorder and spending time with friends bring additional joy to her life.